Finale Laren Jazz 2023 – Tribute to Ray Charles
Op 8 oktober is de finale van Laren Jazz in het Brinkhuis met een optreden van het winnende ensemble van zaterdag en aansluitend Peter Beets met gast organist Sven Hammond met een "Tribute to Ray Charles"
Boek je ticket online op de website van het Brinkhuis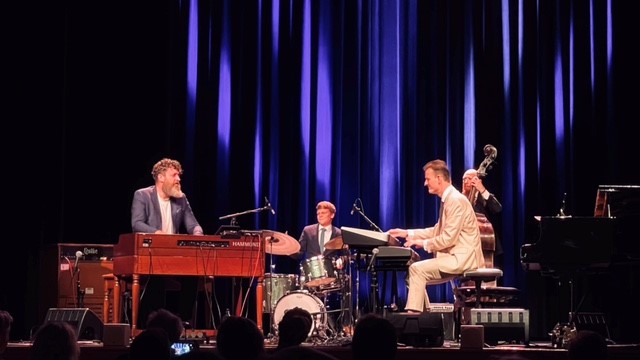 Wat krijg je als je Nederlands hardst swingende pianist Peter Beets op het podium zet met de soulvolle en energieke Sven Figee op zijn ronkende Hammondorgel? Juist ja, het beste uit beide werelden!
Beide heren nemen een unieke eigen plek in het Nederlandse muzieklandschap in. Peter Beets behoort tot de meest virtuoze jazzpianisten, maakt deel uit van The Jazz Orchestra of the Concertgebouw, heeft zijn eigen bigband; het Peter Beets New Jazz Orchestra en werkte eerder samen met uiteenlopende muzikanten als Ruben Hein, Stochelo Rosenberg, Benjamin Herman en Jeff Hamilton.
Toetsenist Sven Figee stond op alle grote podia met zijn Sven Hammond Soul en vormt met zijn bigband het vaste huisorkest in het tv-programma Matthijs Draait Door. Geruggensteund door bassist Steve Zwanink en drummer Tim Hennekes geven Figee en Beets gewapend met een Hammondorgel en een vleugel een eigen energieke twist aan het repertoire van Ray Charles.
Bezetting:
Sven Figee (Hammondorgel)
Peter Beets (Piano)
Tim Hennekes (Drums)
Steve Zwanink (Bas)
Over Peter Beets
Peter Beets is een Nederlandse jazzpianist die bewonderd wordt om zijn razendsnelle spel. Hij ontwikkelt zich tot een veelgevraagd begeleider van zangeressen (Rita Reys, Dee Daniels, Deborah Brown) en instrumentalisten (Curtis Fuller, Joe Cohn). Sinds 1998 is hij de vaste pianist van The Jazz Orchestra of the Concertgebouw, dat een aantal composities van hem op het repertoire zet en een CD met zijn composities opneemt.
Op Laren Jazz staat het optreden in het teken van Ray Charles – bekend van hits als Georgia on my mind, Hit the Road Jack en A song for You.
Over Sven Hammond
Sven Figee werd bij een groter publiek bekend door zijn optredens bij De Wereld Draait Door en als solist voor het Metropole Orkest en Residentie Orkest, met zijn band Sven Hammond speelt hij op de finale van Laren Jazz 2023!
Programma finale Laren Jazz
13:30 prijsuitreiking
14:00 uur voorprogramma met winnaar van zaterdagavond
15.00 uur optreden Peter Beets – a Tribute to Ray Charles